Save The Date! Hey Everyone, I'm pretty excited about our next big show only a few weeks away. The award-winning Jimmy Stahl Big Band featuring both Geneviève-Renée Bisson and Michael Vanhevel, 2019 Niagara Music Awards Jazz Artist of the Year, will be the main event at Heart Niagara "Roaring Twenties" Fund Raising Gala at the Americana Resort and Spa. You're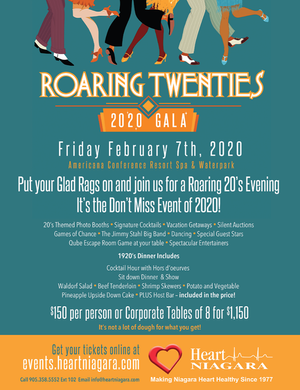 all invited to come dance the night away with the Jimmy Stahl Big Band, celebrating an early Valentine's. You can see Niagara Falls and support a charity focused on heart health Friday February 7, 2020.
The Americana Resort and Spa is hosting the event and is offering a great rate to stay. https://www.americananiagara.com/ 
When booking use Promo Code twenties to receive a preferred rate and you can order your tickets all online.
Check out the Roaring Twenties Gala site https://events.heartniagara.com/ 
You need to get your tickets fast, they're already over 60% sold out! What a great way to spend an early Valentine's with the Love of your life!!