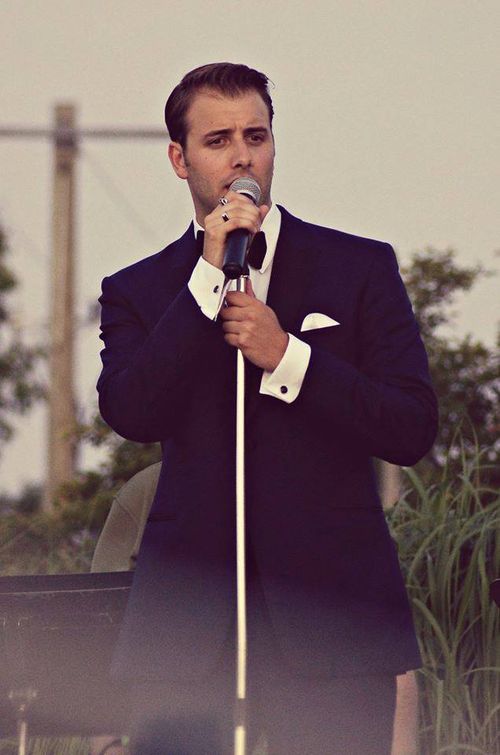 Michael Vanhevel is a rising star in the Canadian music scene, his voice and style having been compared time and time again to giants like Frank Sinatra, Elvis Presley, Andy Williams and Michael Buble. Hailing from the south-western Ontario beach town of Grand Bend, and now living with his family in historic Petrolia, he travels across North America showcasing his infectious love for, and wildly enthusiastic take on the swinging "Crooner" genre wherever he performs. 
Michael has performed as an actor and musician at such venues as The Victoria Playhouse, The Stratford Festival Theatre, The Magnus Theatre, Thousand Islands Playhouse, and All 7 of the Drayton Entertainment Stages, as well as in cities such as Detroit, Hamilton, Niagara, Toronto, Chatham and Kingston, and has performed his hit show "Best of the Crooners", arranged for him by the late, great Canadian Legend Howard Cable, with Symphony Orchestras and Big Bands in Halifax, Thunder Bay, Chatham, London, Stratford, and Sudbury. Vanhevel has been applauded for his musical ability but furthermore for his showmanship and infectious charm by band leaders, theatre go-ers and music aficionados alike and has been on many occasions called a throwback to the 50's and 60's and a genuine "Old Soul". 
Although he enjoys music across all genres, Michael often cites his love for entertainers like Dean Martin and Bobby Darin for inspiring his easy going attitude and fun-loving, humbled swagger on stage. His vocal power, control and tone however brings to mind the commanding presence and flair of the Chairman himself; Frank Sinatra. 
Michael joined up with the Jimmy Stahl Big Band several years ago, and continues to laud each and every one of their members as some of the most talented and polished players and friends, he has had the absolute pleasure of performing with. 
Recent engagements have been; Grand Bend Beach Concert Series 2019, Headlining Act at Art in Victoria Park – Woodstock, closed recording session with Jukasa Media Group, live studio recording at Sessions on The River, Best of The Crooners with the Stratford Symphony, The Best Is Yet To Come – Imperial Theatre, Sarnia, and the Swingin' Big Band Christmas Showcase at the historic Niagara Falls Seneca Theatre. 
For more information about Michael please visit www.michaelvanhevel.com